05/01/2019
14TH NAV CUP CRICKET TOURNAMENT 2018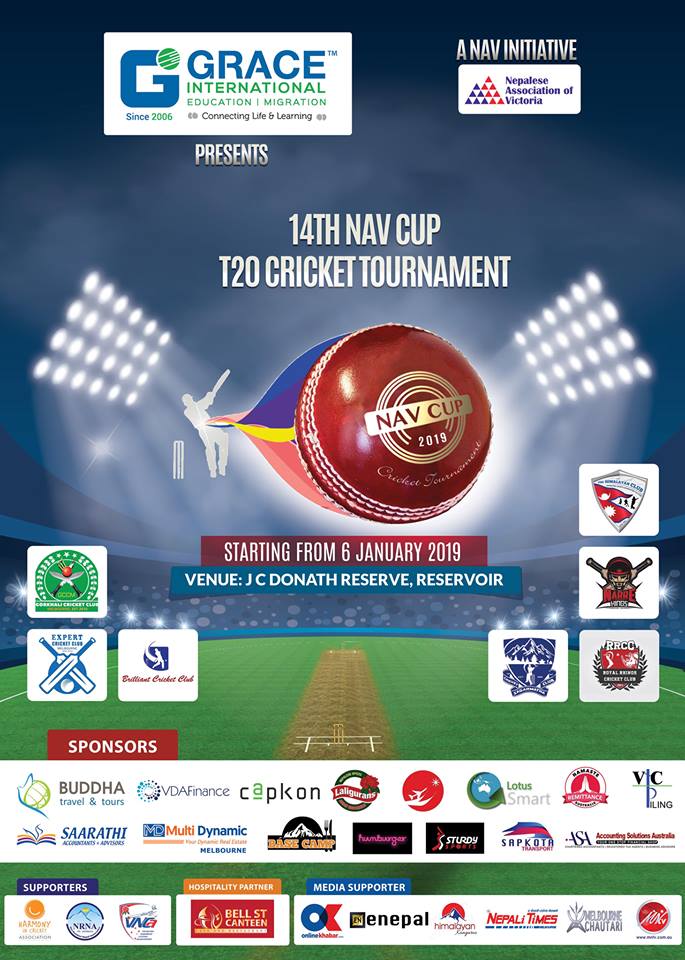 Nepalese Association of Victoria is proud to organise the 14th NAV CUP CRICKET TOURNAMENT 2019 commencing from 6th January 2019 with the participation of 10 teams of 7 different clubs – The Himalayan Club, Narre Kings Cricket Club, Sagarmatha Cricket Club, Gorkhali Cricket Club, Royal Rhinos Cricket Club , Expert Cricket Club and Brilliant Cricket Club.
NAV Cup Cricket Tournament has been successfully held annually since 2005 and NAV would like to invite all the Nepalese community in Victoria to make this event a grand success to mark the 14th year anniversary and to encourage and support the interest of our youth in sports.
Grace International Melbourne is the major sponsor of this tournament and we would like to give special thanks to Grace International team for supporting as a title sponsor. We would also like to thanks to other Sponsors, media partners, participating teams and supporters, Specially Cricket Victoria, Harmony in cricket association, NRNA Victoria and VNCA.
This year, NAV Cup will be held every Sunday at J.C. Donath Reserve, Reservoir. Score of every match will be live in my cricket online application.
Date and venue will be confirmed soon for the semi-final and grand finale. We invite everyone to come and enjoy these matches.
For all enquiries in regard to the event, please contact the Event coordinator Prem Raj Upreti on 0405656442 or email at upreti.prem@yahoo.com.
Media Inquiries:
Prerana Malla Email: secretary@nav.org.au