16 March 2017
MEDIA RELEASE
The Sixth Victorian Badminton Tournament, a yearly program of NAV in association with Eastern Warrior is being organized on 2 April 2017.
The detail of the tournament is as follows:
DETAILS:
Tournament Day:
Sunday, 2nd of April 2017
Time table:
Registration:      8.30 -9:15 am
Game starts:      9:30am (sharp)
Game Finishes: 6.00 pm
Award Distribution Ceremony:  6.00 pm- 7.00 pm
Venue:
Vermont South Sport Link (Ph: 03 9847 7111)
 2 Hanover Rd, Vermont South
 Mel Way Ref 62G7.
Registration closing Date:
Friday 23th March 2017
Please refer below for the co-ordinator's contact details for Registration.
Registration entry fee:
$15 per individual (Participating 1 category only)
$25 per Individual (Participating 2 categories)
 $10 for Student (Participating 1 category only)
$15 for Student (Participating 2 categories)
Under 15 Kids- Free
  Match Categories
1.         U15 Girls
2.         U15 Boys
3.         Men's Single: Open Category Men (16 years- 40 Years)
4.         Men's Single: Over 40 Years
5.         Women's Single
6.         Men's Doubles Open Category (16- 40 Years)
7.         Men's Doubles: Over 40 Years
8.         Women's Doubles
9.         Mixed Doubles
 Match Arrangement/ Rules:
Max Number Category per participant:
2 (Two)
An individual (a player) can participate up to Two Categories (maximum).
Round Robin:
Initial match will be organised on round robin basis (One game, 21 Points based Round Robin match- In the event of draw at 20 points, match will be conducted as per the International Badminton Rules).
Knock-out round:
Knock-out rounds will commence from Quarter Finals (As per the international Badminton Rules).
Please Note:
Any player is allowed to choose Higher Competitive Category/s (Higher Level), but not allowed to compete at lower level (e.g. under 15 players can play to open category. Similarly, Over 40 players can play to open category. However other way around is not permitted).
Please contact or send an email to the following people for the registration by Thursday, 23th of March 2017.
Coordination committee:
Overall Event:
Madhu Pokhrel:                               0422 205 512 (mspokhrel12@gmail.com)
Eastern Warrior's Co-ordinator
Bhasker Amatya:              0402 486 9712 (bhasker_amatya@hotmail.com)
NAV Co-ordinator:
Anup Rana:                         0406 144 132 (rana_anup@hotmail.com)
Suburbs/ Interstate Co-ordinators:
Event Day Activities Management committee:
TBC
What you need to do:
ü  Register your name with your area co-ordinator by 23rd of March
ü  Come on the event day Registration on time
ü  Bring your own badminton racket/s or you can hire at the venue.
ü  Enjoy the day
Food:
Nepali Restaurant Food stall will be provided for the lunch and soft drink. There is also a food court at the nearby shopping centre.
Drink:
Drinking Fountains and Vending machines are located within the venue
Other Facilities:
ü  Venue has multiple showers, change rooms and rest rooms facilities
ü  Netball courts
ü  Cricket Nets/Grounds
ü  Kids Play Ground
ü  Football ground
ü  Free Parking Facilites
Public Transportation:
ü  Tram: Route 75 Etihad Stadium Docklands (City) – Vermont South (Last Stop)
ü  Bus: Bus Route varying on your Area.
eg. 736 Mitcham – Blackburn (via Vermont South, Glen Waverley, Forest Hill)
742- Eastland – Chadstone (via Vermont South, Glen Waverley)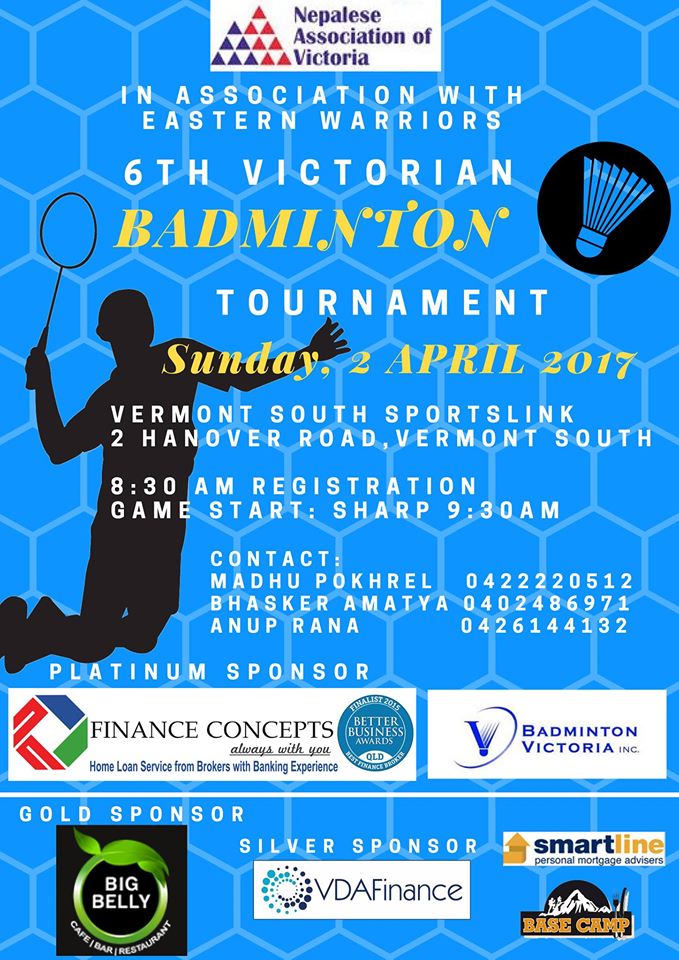 Look forward you to see you there.
Final 6th Victorian Badminton Tournament FLYER