Nepalese Association of Victoria was established in 1997 with an aim to promote the interest of all the people of Nepalese origin living in Victoria (Australia) and promote Nepalese culture, heritage and goodwill between Australia and Nepal.
Our Objectives
Act as contact point for all residents, new migrants, students and visitors.
Provide platform for all members to gather and work together to achieve main objective of the Association.
Provide best possible assistance to members.
Promote and develop links with other community associations in Victoria and establish cultural ties and goodwill.
Enhance community awareness towards the Association.
Run programs to promote goodwill between two countries.
Work in close cooperation with the office of Honorary Nepalese consulate in Victoria.
Establish amenities to flourish Nepali language and culture.
Executive Committee 2022-2024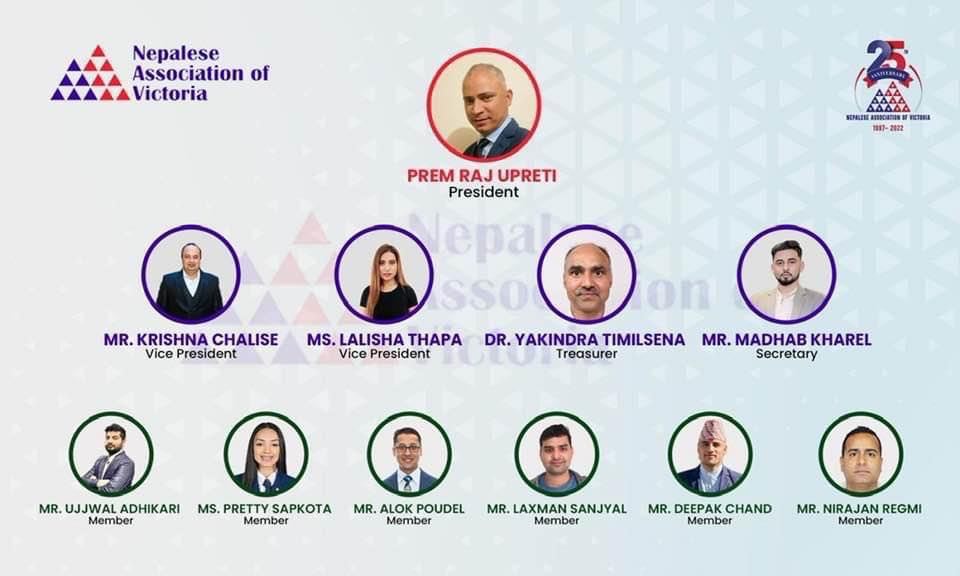 President: Mr. Prem Raj Upreti
Vice President:  Mr. Krishna Chalise 
Vice President: Ms. Lalisha Thapa
Secretary: Mr. Madhab Kharel 
Joint Secretary: Mr. Alok Poudel
Treasurer: Dr. Yakindra Prasad Timilsena
Members:
Mr. Deepak Chand
Mr. Laxman Sanjyal
Mr. Nirajan Regmi
Ms. Pretty Sapkota
Mr. Ujjwal Adhikari
Please contact us for any enquiry via our email info@nav.org.au
Alternatively, you may reach us via the Facebook chat portal, click here.