26 February Himalayan Hurricanes and Gorkhali Lions will play The Grand Final of EEVS NAV cup cricket tournament.
Today the last round of the league matches were played. The results were as follows:
Himalayan Hurricanes (182/8) Defeated Sagarmatha Stars (100/10) by 82 Runs
Man of the Match Sunam Gautam, Himalayan Huricanes
Gorkhali Lions (110/3) Defeated Eastern Blues (109/10) by 7 Wickets
Man of the match Kiran Kandel, Gorkhali Lions
Sagarmatha Renegades (138/8) Defeated Nepalaya Rhinos (58/10) by 80 Runs
Man of the match Susan Gurung, Sagarmatha renegade.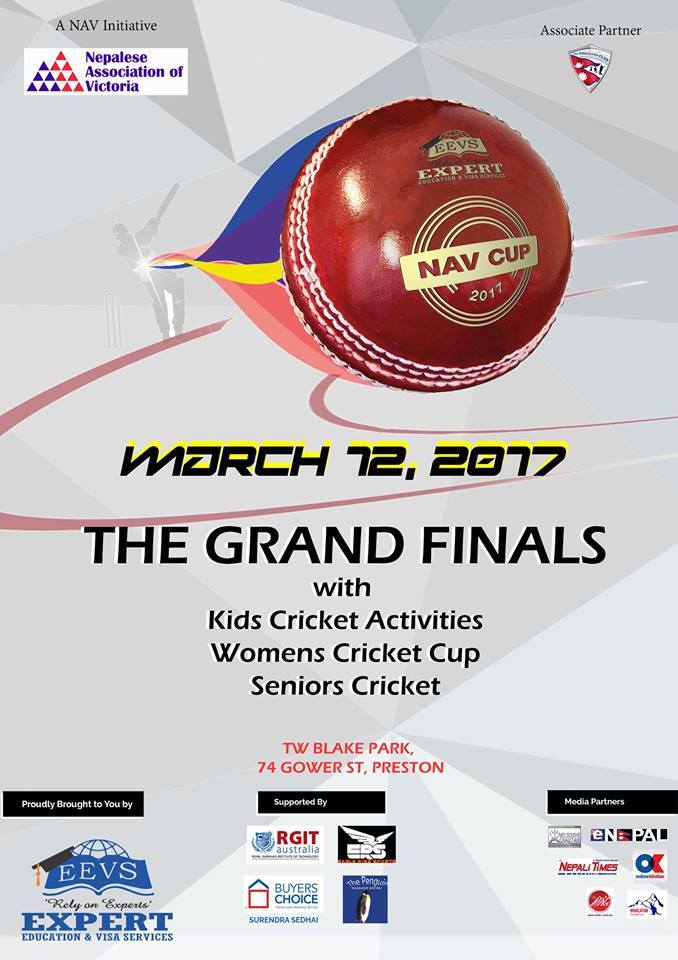 Despite having similar points for Gorkhali Lions, Sagarmatha Renegades and Narre Kings, Gorkhali Lions were through to the final with their higher run rate.
Final will be held on 12th of March at TW Blake Park Preston. Activities will start from 9am and grand final will be at 11.30am
Activities for the day include:
Kids Cricket Clinic
Women cricket match
Senior Cricket match
Third place
Grand Final
NAV would like to thank our major sponsor Expert education and visa services, as well as sponsors RGIT, Penguin Restaurant & bar, Buyers choice and Eagle Rise Sports for sponsoring and supporting our tournament. We also would like to thank The Himalayan Club as an associate partner and all the participated clubs and supporters.
NAV urges all the community members to take part in this grand event.