28/03/2022
Tickets Available for NAV Silver Jubilee Event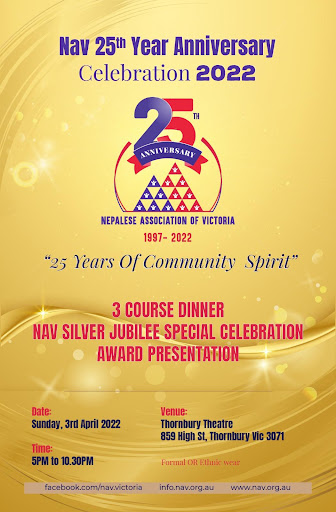 Since its inception in 1997 till date, NAV has undertaken a marvelous journey of 25 years playing a pivotal role in unifying the voice of the Nepali community in Victoria and promoting our community values, culture, heritage, and well-being. With the slogan of "Our community, our strength" NAV has truly established itself as an ambidextrous organization evolving with the changing world scenario and strengthening our multiculturalism through a unified community voice.
Please join us in commemorating this significant milestone of the entire Nepali community in Australia. Let's celebrate, reflect and plan for the journey ahead.
Please note that this is an ADULT ONLY EVENT. 
Event Details:
Ticket Price: $55
Date and time
Sun, 3 April 2022
5:00 pm – 10:30 pm AEST
Location